Please join us at:

GREEK FEST

February 17-19, 2023
Friday & Saturday Feb 17-18, 11am-11pm and Sunday Feb  19, 11am-7pm
---
ANNUNCIATION GREEK ORTHODOX CHURCH
8210 Cypress Lake Drive
Fort Myers, Florida 33919

---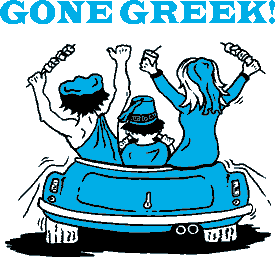 2022  Grand Raffle Winner!
  -  from Fort Myers, FL

You could be the 2023 Winner! This year is a 50/50 daily cash raffle for our Greekfest Event!
Celebrating our 48th year of Greek Fest Fort Myers, we know that our Parish can entertain Southwest Florida with our rich heritage. We host a great display of authentic Greek food and wine, music, dancing, and share the beauty of our Greek Orthodox Faith.  Find your KEFI!  Joy for Life!
-- Greek Fest Chairs, Fr. Dean Nastos & Entire Committee
Tastes like what Yiayia used to make!  Appetizers, Sandwiches, Dinners, and many Deserts!  Vegetarian Items available.
Call 481-2099
This year we are excited to have DJ Steven Makropoulos from Chicago perform at the Greek Fest! He is a very talented musician from the Chicago area who has been entertaining ethnic music fans over three decades.  He  will get you dancing the Kalimatiano before you know it!
Daily unlimited-ride wristbands will be available for purchase during the festival for $25 PER DAY . Pre-sale tickets available $50 FOR ENTIRE WEEKEND.  Call 239-481-2099 for more info or email us at greekfestfortmyers@gmail.com
More Info >>
Not available this year

Explore the Church of the Apostles and learn about the many traditions that came from the 2,000 years. Check times when you arrive.
Tour Times >>
Agape, Kardia & Diname Dance Groups 
The youth of our Church take pride in presenting some of the more traditional folk dances.  Times to be announced on site.
Performance Times >>
Our outside Taverna (Beer and Wine tent will be open)
Appetizers, Sandwiches, Meals, flaming saganaki and Desserts
Cash Raffle $25 per ticket! Only 2000 sold!

50/50 CASH RAFFLE

Drawing held Sunday night, an hour before closing

Tickets are $25 each. Only 2000 sold!

To purchase your ticket, call the church office at: 239.481.2099.
Steven Makropoulos our Greek/American DJ to perform at the Greek Fest!